Cognitive Enhancement
Russian Wonder Formula "Semax"
Finally Available in USA
Improve Mental & Physical Performance
Boost Memory, Focus & Concentration
Prevent / Reverse Brain Damage & Mental Decline
Mitigate Effects Of High Stress
Boosts Immune System
Safe, Non-Toxic, Non-Habit Forming
Semax was developed in Russia to prevent and repair damage from strokes. It was also determined that Semax is safe and appropriate for healthy individuals wanting to function at a higher level (which is our recommended use of this product). According to the manufacturer and numerous clinical studies, in Russia, Semax has a broad range of uses including:
Improve Physical & Mental Function

Optimizes The Higher Cortical Functions Of The Brain (Speech, Thought, Movement Coordination)
Improves Memory (Storing, Processing / Structuring, Recalling)
Improves Focus & Concentration, (i.e. Student Exams, Long Work Hours)
Reduces Mental Fatigue
Improves Stress Tolerance
Elevates & Stabilizes Mood
Reverses Brain Damage From Various Causes (Stroke, Injury, Substance Abuse, etc.)
Prevention / Protection / Restoration From TIA (Transient Ischemic Attack)
Improves Sleep Quality
Increases Adaptive Capacity In Extreme Situations (i.e. Jet Lag, Low Oxygen, High / Low Temperature Or Atmospheric Pressure)
Boosts Immune System
Suppresses Outbreaks Of Herpes Virus Type 1 & 2
Improves Peptic Ulcers
Improves Vision Damaged By And Prevents Optic Nerve Diseases
Improves Symptoms of ADHD
PLUS
NO Significant Side Effects

NO Allergic Reactions
NO Interactions With Other Drugs
NO Addiction Or Withdrawal
NO Motor Skill Impairment
According to the Institute of Molecular Genetics, Russian Academy of Sciences
(
http://old.img.ras.ru/semax1-e.htm)
Semax is a heptapeptide, synthetic analogue of an ACTH (4-10) fragment of corticotropin, of the following structure: Met-Glu-His-Phe-Pro-Gly-Pro. Based on one of the endogenous neuropeptides regulating the functions of the central nervous system. Semax is a nonaddictive nootropic of prolonged action capable of stimulating memory and attention. It is characterized by wide spectrum of prolonged action, and the absence of hormonal activity and side effects.
Therapeutic action of Semax after single application starts within 1 hour and lasts as long as 24 to 48 hours. It positively affects the processes underlying perception, analysis of information, training and memory. Semax markedly improves the adaptation of the human organism to stress (hypoxia, cerebral ischemia, etc.). Semax supports high levels of attention, stimulates memory and facilitates accelerated recovery of intellectual and physical potential. Semax supports active attention and the ability to work in conditions of nervous and psychic fatigue like strenuous operator activity.
It also accelerates adaptation of the cardiovascular system to increased physical workload. Semax can be used for treatment of intellectual and mnestical (memory) disorders, of cerebral vascular diseases, for rehabilitation after craniocerebral traumas, treatment or prevention of post-anesthesia effects as well as for treatment of asthenoneurotic disorders (irritable fatigue) of various geneses including ionizing radiation.

Healthy people may take Semax to stimulate their memory and capacity for work, as well as improvement of mood and neutralization of stress effects. Semax was tested on operators of the Perm Power Station, and mine rescue workers at the Coal Basin of the Moscow Region (Russia). The results suggest Semax to be potentially used among the following groups of people: operators of atomic and electric power stations, civil and military air traffic controllers, PC users, businessmen and officials during negotiations requiring high concentration of attention and memory, drivers and sportsmen.
In 1997 the State Pharmacology Committee issued permission for clinical trials of Semax for optic nerve diseases... Semax led to increase in the acuity of vision (83.9 and 92.1% of cases, respectively), extension of the visual field borders (76.9 and 84.3%), and conductivity of the optic nerve and retina (67.7 and 76.3%)... Semax protects the nervous tissue from damage after-effects, and reliably facilitates positive clinical dynamics assessed by increase of acuity of vision, vision field, electric sensitivity and conductivity of the optic nerve, and by improvement of color vision.
"Electrophysiological and computer methods of examination demonstrated the advantages of (Semax) over traditional neuroprotective treatment for glaucoma. The efficiency is due to pathogenetic activity of Semax possessing both neuroprotective and neurotrophic effects"

Also From NIH: "Semax possessing nootropic and neuroprotective activity significantly promoted ulcer healing in patients with refractory peptic ulcers. On day 14 of treatment ulcer healing was observed in 89.5% patients receiving intranasal Semax (1% solution, 2-4 drops 3 times a day for 10 days) vs. 30.8% in the control group". (
http://www.sciteclibrary.ru/eng/catalog/pages/582.html)

"SEMAX" has a number of advantages in comparison with the widely known medicinal drug Nootropil (pyracetame). Its effective doses are 1000 times smaller than Nootropil, the therapeutic effect of "SEMAX" begins from the first hour of its application.
The preparation underwent clinical testing in the following Institutions:
Research Institute of Neurology, Russian Academy of Medical Sciences;
S.M. Kirov Military Medical Academy, St.-Petersburg;
Center of Vegetative Pathology, Ministry of Health Care of the Russian Federation;
Medical Center of the Presidential Management Department of the Russian Federation;
Chair of Neuropathology and Neurosurgery, Moscow State Medical University;
Institute of Reanimatology, Russian Academy of Medical Sciences;
I.M. Sechenov Moscow Medical Academy;
Bekhterev Psychoneurological Institute, St.-Petersburg.
Semax nasal drops are available in both a 0.1% solution and a 1% solution.
Each drop of 0.1% solution contains 50 mcg of active ingredient while the 1% solution contains 500 mcg of active ingredient per drop. The 0.1% solution is as effective as the 1% solution for the majority of users. In Russia the 1% solution is reserved for victims of peptic ulcers (who don't respond to antibiotics), TIAs (Transient Ischemic Attacks), strokes or other serious brain injury. As the preparation is non-toxic with no observed side effects both the 0.1% and 1% solution are considered safe and appropriate for use by healthy adults.
Dosing Recommendations

0.1% Dosing Recommendation: 2 to 3 drops in each nostril 2 to 3 times per day for between 3 to 14 days or "as needed". Can be used up to 6 times per day if desired. Can be used longer than 14 days if desired. Each drop contains 50 mcg of active ingredient. Each 3ml bottle contains approximately 60 drops. Note: While everyone is different most healthy individuals wanting to maintain peak performance will use 2 drops per nostril 2 times daily. During periods of high physical, mental or emotional stress increase to 3 drops per nostril 3 times daily.
1% Dosing Recommendations: For more serious deficits and complaints 2 to 3 drops per nostril 2 to 3 times per day for 14 days. Repeat 2 to 4 times per year. Each drop contains 500 mcg of active ingredient. Each 3ml bottle contains approximately 60 drops.

How to dispense: With sharp scissors cut just the very tip of the plastic dispenser. First place the cap over the tip, then turn the bottle upside down and shake gently so the plastic reservoir fills with liquid. When gently squeezed the reservoir will dispense one drop at a time. Preferably lie in a horizontal position. Place the plastic tip just inside but not touching the nostril and very gently squeeze the reservoir. You will feel each individual drop as it falls into you nasal passage. This allows proper dosing. Remain horizontal for 30 seconds or so to allow the drops to absorb into the back of your sinuses. If it is inconvenient to lie down, we include a small plastic spoon. Measure the drops into the spoon. Place the tip of the spoon just inside your nostril and tip your head (and the spoon) back. Keep your head tipped back for 30 seconds or so to allow the drops to absorb into the back of your sinuses. Repeat with other nostril.
Storage: Store dark and refrigerated (up to 2 years) below 50° F (10° C). Do not expose to temperatures exceeding 100°F (40° C). Do not allow to freeze.
Fill Line: Semax comes in an oversized bottle. The bottle contains 3ml of liquid. When full with the proper amount the bottle appears half full (see below photo). When checking please assure the plastic dispenser tip is empty. The liquid will come to just below the colored band.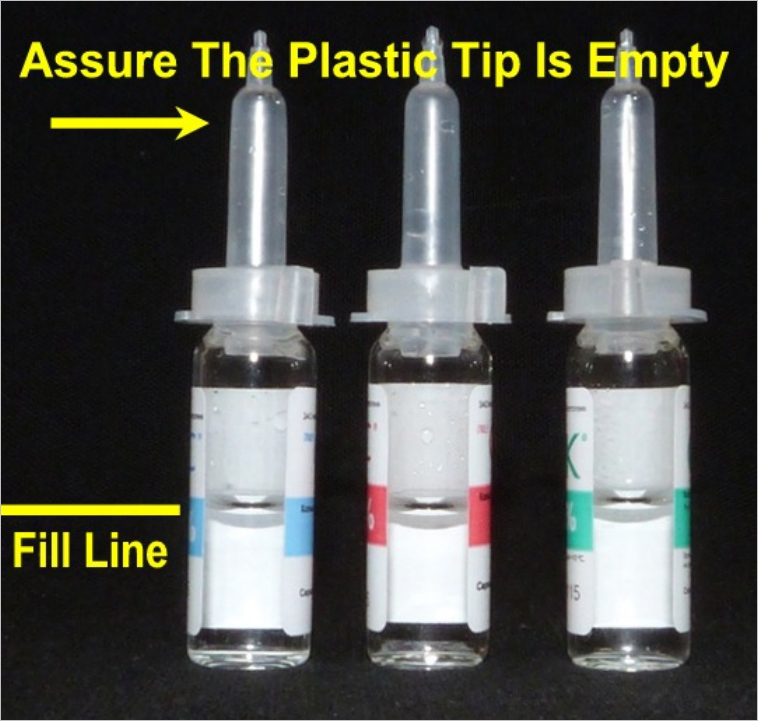 Not for use by children under 18 or pregnant or lactating women.
Please note the product is manufactured in Russia and the text on the packaging is in Russian.
Note: The FDA has not evaluated or endorsed this product. It is not intended to treat any specific illness or medical condition. Please consult your physician prior to using this or any other nutritional supplements or medications.
| | |
| --- | --- |
| "Semax" 0.1% solution one mini bottle | "Semax" 1.0% solution one mini bottle |
| | |